Meeting quick closing deadlines
Speed up preparation of reports - сonsolidate and standardize analytics and financial data for the entire group of companies
Trustable error-free data
Make business decisions based on unified data from various financial and performance reporting systems
Making complex budgeting easy and smooth
Leverage fully-functional budgeting of operations and projects of the group with any complexity of the budgeting route
Auditability and consistency with IFRS
Consolidation statement according to IFRS: translate data from the local GAAP to IFRS charts of accounts.
World Сlass CPM Software for Holding Companies

200+
companies in one holding structure
10 000+
users in the same data base
10
years in the CPM software market
Keep a keen eye on corporate finances with EPM software

Consolidation of reporting
Reconciliation and elimination of intercompany transactions
Consolidation of reporting for holdings, with support for complex company structure

Elimination of debts and unrealized margins in the group's assets
Compliance of reporting with IFRS
Comprehensive budgeting system
Coordination of budgets of any complexity
Budget and variance analyzes based on company's OPEX and CAPEX
Variety of calculation options, consolidation, distribution, rolling planning and extrapolation planning methods
Flexible and customizable list of required classifiers, dimensions, and indicators
Allocation of responsibilities between participants of the budgeting process
Business analysis and BSC
Balanced Scorecard concept for visual modeling of strategic goals
Company KPIs and dynamics monitoring, in-depth KPI analysis
What-if analysis, plan-fact analysis, ABC analysis, factor analysis, and intellectual data analysis for determining hidden patterns
Investment project management
Pre-investment appraisal: investment accounting, calculation of financial models, budgeting, permission management, and calculation of KPIs
Multi-criteria scoring of alternative projects, generation of an optimal portfolio
Planning and control of the project execution, revision of the investment program
Flexibility and integration of CPM software

Support for legal entities with any combination of systems and sources
Different consolidation principles: "flat" or multi-level subsequent consolidation
Loading data from external accounting systems and ERP software
Master data management from various external sources: cleaning, harmonization, and elimination of duplication
Find exact description of the 1C:Perform capabilities in the Support section:
BROCHURE
More about 1C:Perform
To explore all the features and capabilities of 1C:Perform enterprise performance management system, download the product brochure.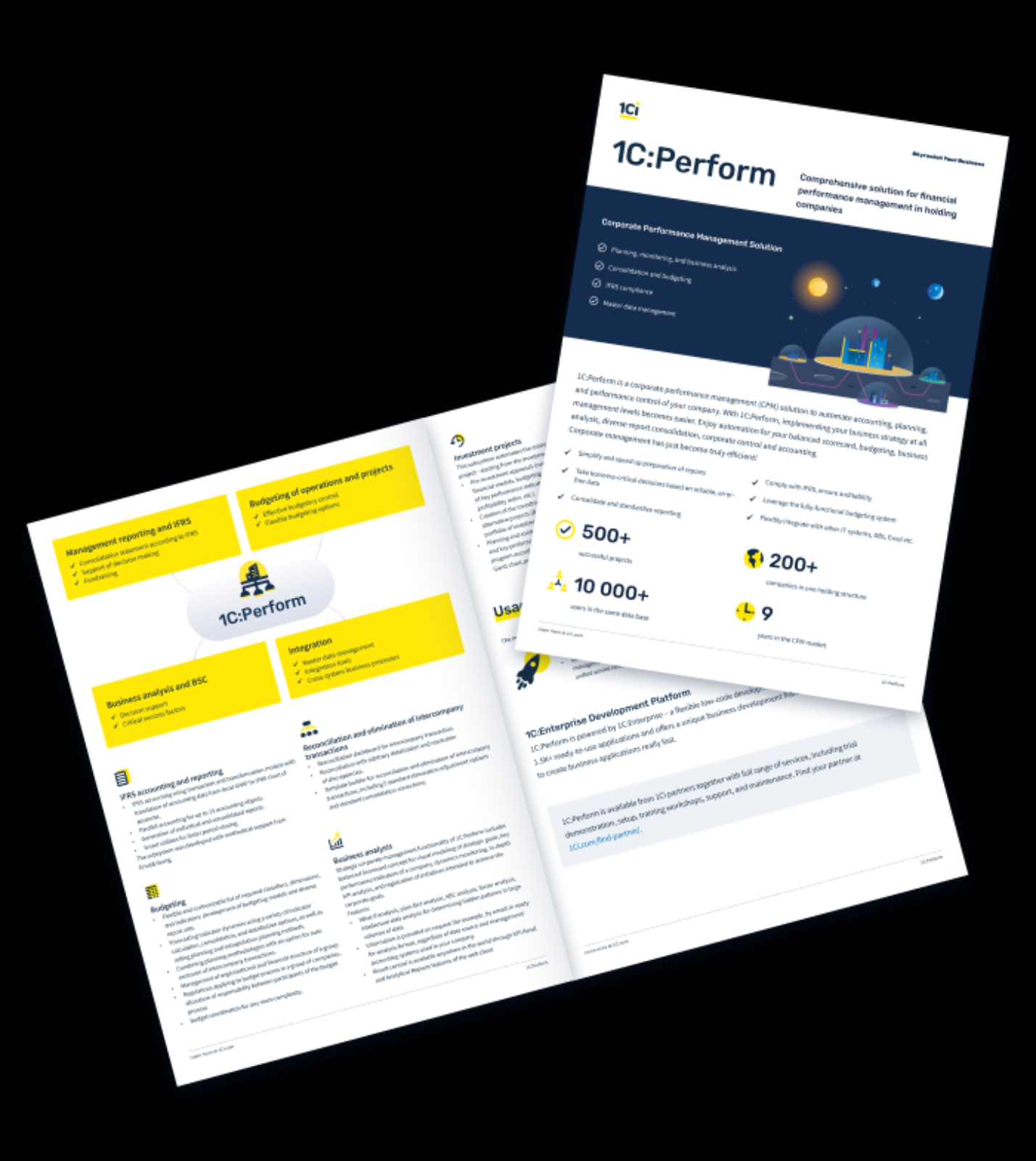 Get a Brochure
Leave your email below and we'll send you 1C:Perform brochure.
Making decisions based on reliable real-time data
Transparent financial reporting across companies
Affordable CPM / EPM solution for holding companies
Integration with various financial and performance reporting systems
Customer Stories
Companies that every day choose the role of leader and scale up their business
MANUFACTURING
Abrau-Durso
Automating planning, budgeting and analytics using 1C:Perform.
Learn more
SERVICE
Akkuyu Nükleer
Automating financial accounting, financial planning, budget management and reporting using 1C:Perform.
Learn more
Request Demo
Please fill in the form and we'll find the best partner to provide you with a demo of 1C:Perform.