Changing to Succeed
Nowadays, inventory can come in multiple forms and be stored in various locations, like warehouses, distribution centers, or self-pick up facilities. Distributors and manufacturers all over the world struggling to get full control over their inventory, which is actually one of the main business assets for fast orders closing.
Having a well-documented and deeply-controlled supply chain management process is always a significant competitive advantage and a pathway to customer loyalty growth.
By deploying ERP with warehouse and inventory you will
Achieve the maximum transparency and end-to-end visibility of your SME warehouse operations and inventory to effectively manage stockpile balances, materials consumption, and finished goods movement in real-time.
Manage your inventory and its characteristics like measurement units, stock allocation groups, expense items, price calculations, expiration dates, ingredients, and lots more.
Accelerate product delivery by automating the data and materials flow through your infrastructure and in multiple business units locations.
Reduce the execution times for the new orders via real-time in-depth warehouse planning.
Keep a 360° view of your warehouse 24x7x365

Item tracking
Get a transparent and efficient way of managing, tracking, and optimizing assets within the warehouse.
Easily assign serial and lot numbers.
Receive and ship large batches of goods within the single order line entry.
Item categories and attributes
Set all inventory parameters, including color, country of manufacture, size, product dimensions, expiration date, discount, etc.
Save a lot of time by automatically assigning new inventory the characteristics of a specific category of goods with no manual work.
Activate and disable any attribute when needed in a couple of clicks.
Translate attributes names into dozens of languages thanks to the rich localization capabilities of the system.
Create custom product categories on the go to cater to any business' needs.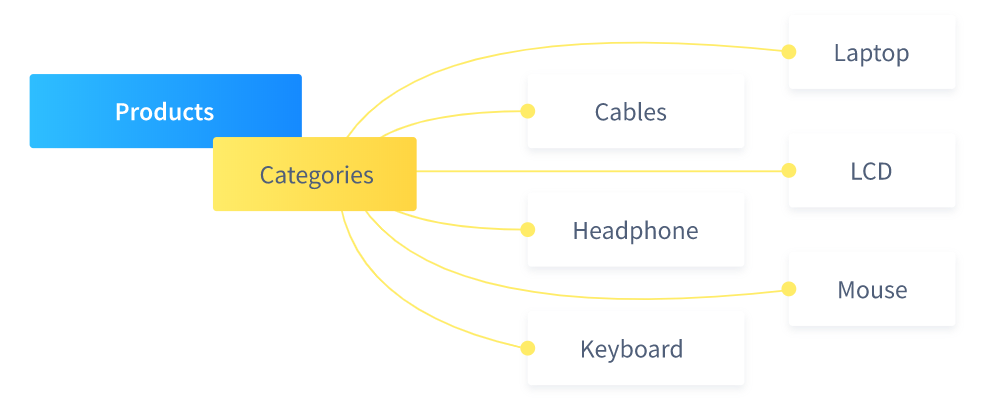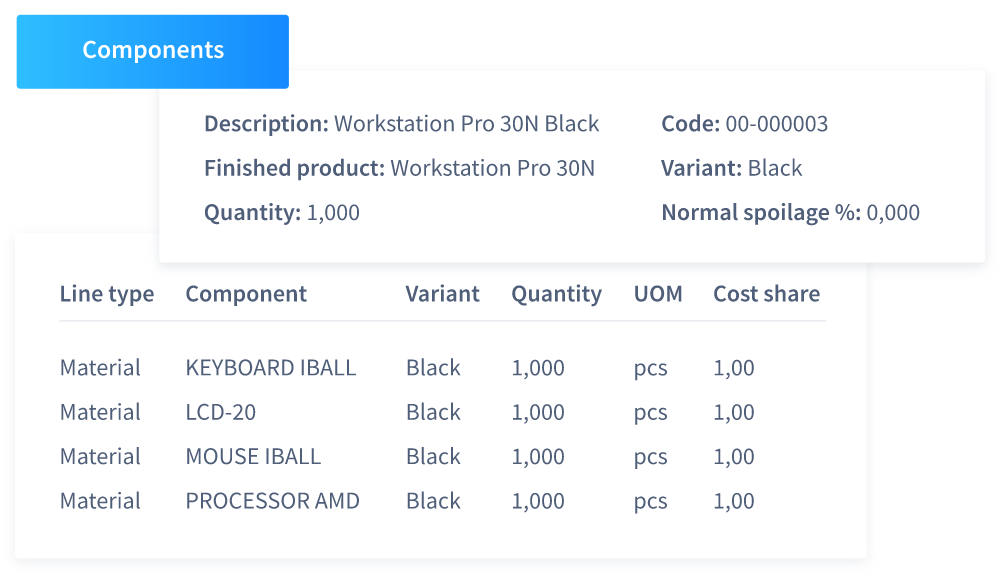 Assembly management
Get a flexible way of building the assembly management process.
Benefit from using a built-in Assembly Bill of Materials reports to track specific goods, raw materials, or parts of products.
Replenish stocks, store materials, add customer requirements for kit materials directly from order lines or quotes via assembly orders.
Multiple warehouses
Easily manage the company's warehouses, shops, pick-up points, and stocks all over the world with no regard for the overall number of locations.
Create multiple virtual warehouses within the one physical place to split and better control different processes and supply chains.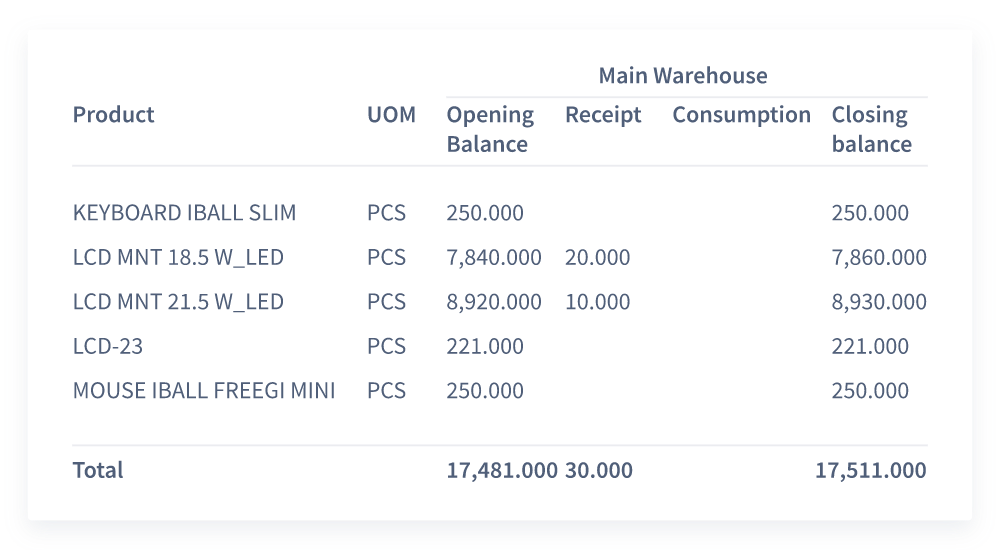 Warehouse and inventory reports
Fuel your decision-making process with 1C:Drive's data-driven features.
Get an instant comprehensive view of all of your warehouse operations to make the right moves at the right time and boost your sales, manufacturing, finances, etc.
Warehouse shipment
With the 1Ci ERP warehouse management system, you will enable your warehouse workers with up-to-date information about the demand spikes for better planning and shipment process optimization.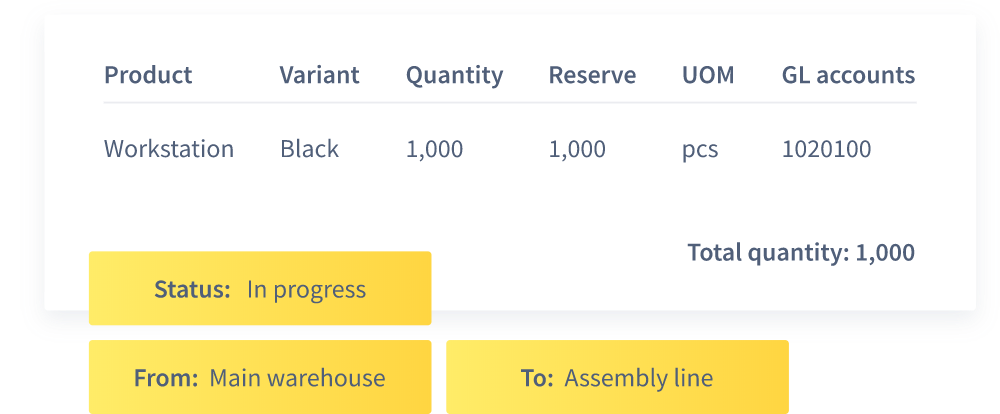 Who will benefit from using ERP with warehouse & inventory management software?
Manager
Access in-depth reports to get demand insights and send orders for goods via the contractor's platform in real-time.
Sales manager
Use customer's feedback to form an order that meets all the requirements at the warehouse level.
Warehouse manager
Make the whole warehouses processes from the order to the paperwork after the sale more efficient.
Underlying products and technologies
1Ci ERP solutions with warehouse and inventory management are based on cutting-edge and customer-proven business automation software
1C:Drive
Business software solution capable of automating the majority of operations in small and medium-sized companies' workflow including purchases and sales, manufacturing, production and more.
1C:Perform
Corporate Performance Management system for consolidation of reporting, advanced budgeting, and financial performance management in holding companies.
1C:Enterprise
Highly adaptive and configurable development platform for streamlining corporate processes such as financial operations, accounting, production management, sales management, corporate services and more.
Industry-focused ERP solutions
ERP solutions created specifically to meet each industry needs
Customer Stories
Companies that every day choose the role of leader and scale up their business
FOOD & RESTAURANTS
D-wine
100% transparency through the automation using custom business management system based on 1C:Enterprise.
Learn more
MANUFACTURING
ACM Meat Factory Ltd.
Automation of key processes on a small meat processing company in pursuit of a technology-driven growth strategy.
Learn more
Ready to get started with 1Ci solutions for inventory management? 1Сi partners will get you covered
Find 1Ci Partner
Get consulting, and support from trusted 1Ci Partners ready to help with digital transformation of your business. Find a Solution Partner that is right for you and your unique business processes.
Partner Product Catalogue
Find industry solutions already deployed by our partners to help companies navigate the digital transformation journey and achieve greater results.
Request Demo
Please fill in the form and we'll find the best partner for you to provide a demo of 1Ci ERP solution with warehouse and inventory